Missing Peace Art S p a c e


Current & Upcoming Exhibitions

CURRENT & UPCOMING EXHIBITIONS
Dayton Dia de los Muertos Parade & Celebration 2017
Sunday, October 29rd 2-7pm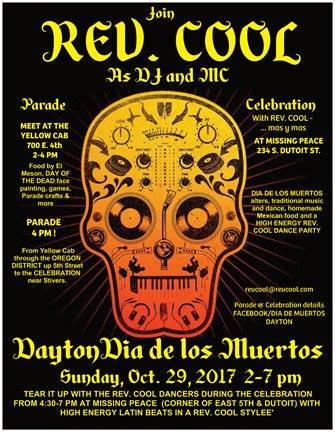 The Old Yellow Cab will host a pre-parade festivity that includes story telling, games, and face painting.
The address is 700 E. Fourth St. Fun starts at 2 p.m.
The parade will leave The Old Yellow Caby at 4:00 p.m. and will travel through the Oregon District on Fifth Street
ending at the Missing Peace Art Space.
Once we arrive at the Missing Peace Art Space, feel free to tour the gallery and check out the art and altars.
Celebrate with food, music and Dance until 7 p.m
Missing Peace Art Space, 234 S. Dutoit St., Dayton OH 45402
Family/Child Friendly Event
Dia de los Muertos is a special day celebrated throughout Latin America,
on which people remember loved ones who have died.
The Dayton celebration will be in the Mexican tradition of celebrating with bright colors,
imagery of calaveras (skulls) and more, but recognizes all Day of the Dead traditions.
This is a free and family-friendly event.
Dia de los Muertos Dayton Website

You can see some of the photos on
our Facebook page and stay connected at www.facebook.com/diademuertosdayton.
________________________________
"Countdown to Peace",
a multi-artist peace project now being overseen by the Missing Peace Art Space
see website for details.
"Art of Peace" Exhibitions available
for loan.
Combat Paper Project Vol I

A set of six prints made by
Iraq War Veterans done on
paper made from their
uniforms.
"You are not my Enemy"
poem written on the prints.
more about the project
<here>


by Caryn West

26 images of children from
around the world and their
stories of lost childhoods.
We can make a difference
with our own two hands
is the message.
Secure Tax Deductable Donations
can be made online.
Gallery hours during
exhibitions.
Sat & Sun 2-7pm
or by appointment
Home Gallery Information Upcoming Exhibitions Artenade
Children and the Art of Peace Past Exhibitions Links to the Art of Peace
Missing Peace Art Space ©